Everything you need from a driving school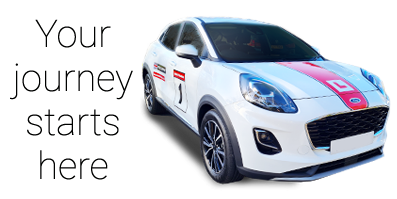 Learn to drive in a Ford Puma,
you'll love it.
It's the best car we've ever taught in. Featuring a height adjustable seat, automatic window wipers, cruise control, automatic headlights, speed limit sign recognition, air conditioning plus dual controls (just in case!) and more.
Learning to drive in the new Ford Puma will be a pleasure.
One-on-one
driving lessons with no one else in the car.
Pick up
from home or school (as long as you're a resident in
our area
and within our coverage).
2 hour
driving lessons.
A 45 minute driving lesson doesn't cut it with us.
Learn more in 2 hours and pass sooner.
FREE
mock driving tests as part of your driving lessons.
Experience what a driving test is like even before you go for the real one.
Gain experience, learn from any mistakes and go onto pass the real one.
We only coach
3 pupils per day.
You won't get an over-worked, exhausted instructor take you out for a driving lesson here. Instead, you can expect a fully energised instructor ready to help you get the most out of each lesson.

Gain an
advantage
.
Learn the theory before your next driving lesson and save money & time. Our learning to drive YouTube channel has had over 44 million views!
Learn to drive with the driving school that created it.
Update:
Evenings (after 6pm) and weekend lessons are
FULLY BOOKED
until further notice. No more bookings are being taken.
Weekday lessons: Please contact us for up-to-date information.
Virus update:
The car controls, handles and any contact points will be cleaned before each lesson.
Car windows will be open.
We are only accepting payment for lessons via bank transfer.
You must not come for your driving lesson if:
you've been told by the NHS Test and Trace service that you've been in contact with a person who has coronavirus.
You have to stay at home (self-isolate). You will not be charged for the missed lesson.
Icons made by Vectors Market and monkik from Icons credit: Fasil from freeicons.io