Video on 'pull-push' steering




Subscribe for more tips on our YouTube channel


Holding the steering wheel
Imagine the steering wheel as a clock. You should hold the steering wheel at either a 10 to 2 (see photo) or a quarter to 3 position. You should keep both hands on the steering wheel at all times unless changing gears or using one of the cars other controls. This means that if you hit a pot hole then you'll still have full control of the steering wheel.

You can practice the pull push steering with a plate and pretend it's a steering wheel (be careful not to drop it!).
Feeding the steering wheel through from one hand to the other.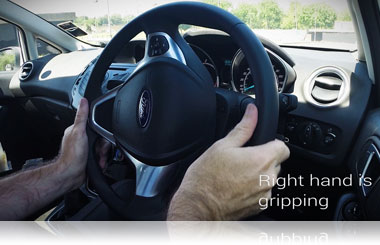 Your right hand must always stay to the right half of the steering wheel and your left hand should always stay to the left half
Steering right
To steer full lock (maximum steering) right, you would start with both hands at the top of the steering wheel. You would pull down with your right hand gripping and your left hand would not grip as it would slide down the left side of the steering wheel opposite to to your right. Your hands would then meet at the bottom.

Now your left hand grips the steering wheel as it pushes up and your right hand slides up (opposite your left hand) to meet at the top.

Your right hand now grips as it pulls the steering down and the left hand slides down opposite (you should have full lock now).
Steering left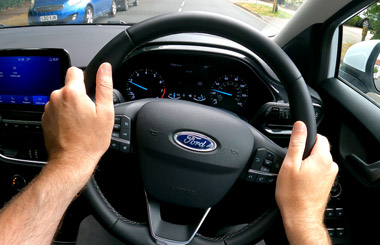 To steer left is the same process, just the other way.

Start with both hands at the top of the steering wheel. Your left hand will now grip and pull the steering wheel down as your right hand slides down to meet it at the bottom.

Your right hand will now grip the steering wheel and it will push up. Your left hand slides to the top to meet your right hand and it continues until you can't steer any more.
Video on the pull push steering in action